Bij ART LAB for kids leren kinderen (9 - 12 jaar) kunst maken. De nadruk ligt op schilderen en tekenen en soms druktechnieken. We experimenteren met verschillende technieken en materialen zoals acrylverf, houtskool, ecoline, aquarelverf, potloden, inkt, krijt en oliepastel. De opdrachten zijn iedere les anders waarbij ik wil aansluiten bij de wereld van de kinderen en hun fantasie. Maar ook werk ik vanuit een kunststroming, bekende of onbekende kunstenaars, thema of vraag om ook iets mee te geven vanuit de kunstgeschiedenis.
De lessen zijn op woensdagmiddag van 15.45 - 17.15 u. Voor meer informatie en opgave:
www.atelierrohde.nl
.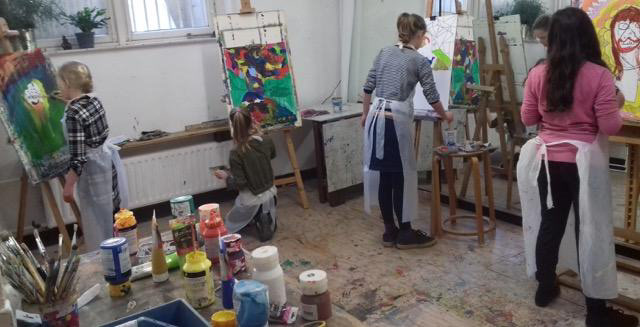 Voor wie een creatieve zomer in hartje Frankrijk wil is
Charme
een geweldige ervaring! Op deze expressie en theater landgoedcamping kun je aan de slag met dans, theater, zang, muziek, beeldend, film, schrijven, etc.. Het landgoed is groen, sfeervol, met bos en beken en zowel open als overdekte plekken. Een vakantie waarvan je echt geïnspireerd thuiskomt! Meer informatie op
www.charme.nl
.
Voor Charme werk ik als docent beeldende kunst voor volwassenen en jeugd.
If you yearn for a creative summer in the centre of France
Charme
is a great experience! At this expression and theatre estate campsite you can work with dance, singing, music, theatre, art, photography, writing. You will get surprised by the great atmosphere of the people, the lush campsite with trees and streams but mostly by yourself. A week that will be highly inspire you! More information at
www.charme.nl
.
At Charme I work as a teacher in art for both adults as youth.